Teen Life Impact Group
*Due to the COVID-19 outbreak, the Teen Life Impact Facebook Group will be open to any adult for FREE until further notice! Click the link to join and find resources for parents, counselors, teachers, coaches, youth leaders, and volunteers. Please keep scrolling to find out how you can partner with Teen Life to support teenagers!
Are you ready to make a big impact on teenagers?
By becoming a Teen Life Supporter, you will join a group of supporters who are dedicated to changing the lives of students. Students experience stress, anxiety, loneliness, insecurity, and hopelessness. Teen Life Support Groups make a difference by providing a safe place for students to gather with a trusted adult on school campuses. With 100% of your donation going toward helping students receive the support they need through Support Groups in schools, your gift will make a huge impact!
The Impact of Your Dollars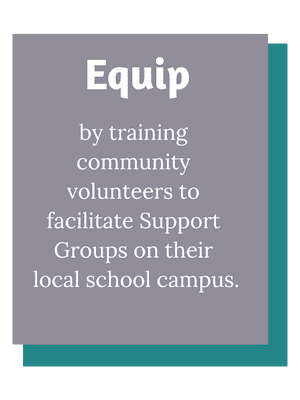 How far does your gift go?
Why Give Monthly?
While special, one-time gifts are incredibly helpful, monthly giving is an affordable, sustainable way to make an impact on teenagers! By spreading your donation out over the year, it will be more friendly for your budget and more predictable support for Teen Life's program. 
Become an IMPACT Member.
Any donation amount can empower teenagers, but you can also sponsor an entire group, campus or district by giving at one of the levels below.
Group Sponsor
In one year, you will sponsor an entire Support Group on a school campus. This includes the supplies and training needed to make Group happen!
Campus Sponsor
You will sponsor two Support Groups which means that a school campus will be covered for the entire school year! This includes the supplies and training needed to make Groups happen.
District Sponsor
In one year, you will fund enough Support Groups to cover an entire school district! This includes the supplies and training needed to make Groups happen.
Join the conversation! Get access to an incredible, exclusive resource.
As a monthly IMPACT giver, you can join Teen Life's private Facebook group for support, discussion, videos, and exclusive content. Join the conversation with Teen Life and our Resident Experts where we will cover new topics each month that are relevant to living and working with teenagers. As we look around, there are many avenues to complain and poke fun at teens – but what if we took a different approach? What if we encouraged and supported each other? What if we believed the best about teenagers and shared experiences where teenagers have grown and changed in positive ways? With a monthly gift, you can get access to all of this material and an incredible resource where you can ask questions, share advice, and be encouraged. 
Not ready to become a monthly donor? You can make a special gift by clicking the button below and choosing "one-time".
Any questions? Please contact karlie@teenlife.ngo.
WE CAN'T WAIT TO SEE THE IMPACT WE CAN MAKE TOGETHER.